Louisville not interested in Mustain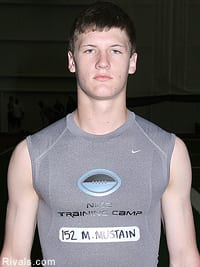 While rumors are flying across the country that the University of Louisville could be the final destination for Arkansas transfer Mitch Mustain, the Cardinal coaching staff has other thoughts.
In a statement released Thursday afternoon to CardinalSports.com, Louisville coach Steve Kragthorpe responded to the Mitch Mustain rumors.
"Due to widespread media speculation, the University of Louisville is not interested in recruiting Mitch Mustain," Kragthorpe's statement read.
The response from Kragthorpe's office is interesting in that first, it removes Louisville from the running for one of the top quarterbacks in the nation, and two, it sends a huge vote of confidence to current Cardinal quarterback recruit Matt Simms.
For the Cardinal staff to make Simms their top priority in the class of 2007 at quarterback - even with significant interest from Mustain - means they believe the 6-foot-2, 200-pound New Jersey star is their quarterback of the future.
.