Louisville QB out four to six weeks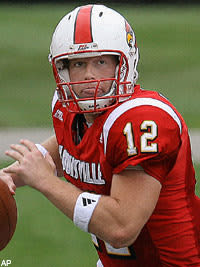 The University of Louisville came into the 2006 season touting not one, but two players for the Heisman Trophy. Now just three weeks into the season, both running back Michael Bush and quarterback Brian Brohm have been sidelined with injuries.
Shortly after the Cardinals' 31-7 win over Miami, the University announced Brohm would undergo surgery Sunday for strained ligaments in his right (throwing) hand. According to school officials, the former Heisman candidate will miss four to six weeks during recovery.
Brohm will have surgery Sunday morning at 7:30 a.m. at Jewish Hospital in Lousiville. Louie Scheker and Joe Kutz will repair sprained ligaments in Brohm's throwing (right) hand.
Brohm left the Miami game in the third quarter with pain in his hand. After passing for 181 yards and a touchdown (10-14), Brohm had moved Louisville down to the Miami four-yard line on a seven play drive before he left the game during a timeout.
Back-up quarterback Hunter Cantwell came in and finished the drive with a handoff to running back Kolby Smith for a touchdown. Cantwell finished the game 3-4 for 113 yards and a touchdown.
Louisville lost Bush to a broken leg in the season opener, a win over rival Kentucky. Both players are eligible to return to Louisville next season. Brohm is just a junior and Bush has a year of eligibility remaining if he chooses to redshirt this season.