Strong says Call of Duty hurt Cardinals prep for Pitt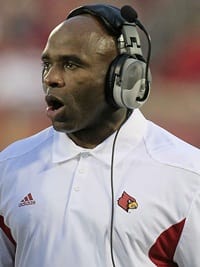 Louisville coach Charlie Strong says his team lost to the Pitt Panthers, in part, because they weren't focused on football. Strong says the game 'Call of Duty: Modern Warfare 3' took too many of his players' focus off of preparation last week.
"Young people are dealing with so much," Strong said when talking about his team's lack of focus and preparation for the Pittsburgh game. "I told them Tuesday. I get them off the practice field and we weren't sharp, so you're thinking you come back on Wednesday and we weren't sharp then. There's a new video game that came out and those guys are so... I said, how can you allow a video game to take control of what you have in your hand and what's ahead of you."
The Cardinals lost 21-14 to Pitt, and Louisville's offense, which scored 38 against West Virginia the previous week, was scoreless in the first half and had just 73 total yards.
Strong said he told the team Wednesday, "This video game is that important? We'll see how important it is on Saturday. I said, in about a week or so, you're going to be throwing that video game away. But we let a video game take control of us. And young people, there are so many factors they're dealing with. They listen to so many outside influences and that can not happen. Within a program, the focus has to be there, the preparation has to be there."
The first time he spoke of the game, Strong didn't mention it by name, but he made clear later in Monday's press conference which game he has his targets on.
"Our guys talk about it. It's the buzz when you hear it all the time. Call of Duty, the new video game out, so it was a call to duty and they got called to duty Saturday," Strong said. "It's young people. We're dealing with young guys who see something new, they want to try it and it just engulfs them. I heard them talking about it all week."
Call of Duty: Modern Warfare 3 sold more than $400 million, around 6.5 million units, in its first 24 hours after release last week, according to publisher Activision Blizzard.
Strong says he knew their focus was not on football based on their Twitter accounts: "What guys don't realize is on Twitter, you know what's going on with these guys because they don't realize you can read everything they're saying and they're all talking about the video game. I told them, I can find out anything I want to about you guys, all I have to do is go to my Twitter page."

Click
Here
to view this Link.Strong also mentioned players getting big-headed from congratulations of other students on campus after UofL's three-game winning streak. Strong said his team was not mentally tough enough to handle praise or success at this point in the program's building phase.
"It's all about maturity, but when you're dealing with young people everything is new and exciting to them and they're going to go try it as much as you talk about it," Strong said. "We had guys miss class because they stayed up all night playing that video game. It's such a big deal."
Asked if he has ever played Call of Duty, Strong laughed and said, "No, I haven't played it, I'm not a video guy."