Cards vs. Gators: 3 Things You Need to Know
Louisville Baseball squares off against Florida tonight at 7 p.m. in Omaha in the Winner's Bracket. Here are three things you need to know...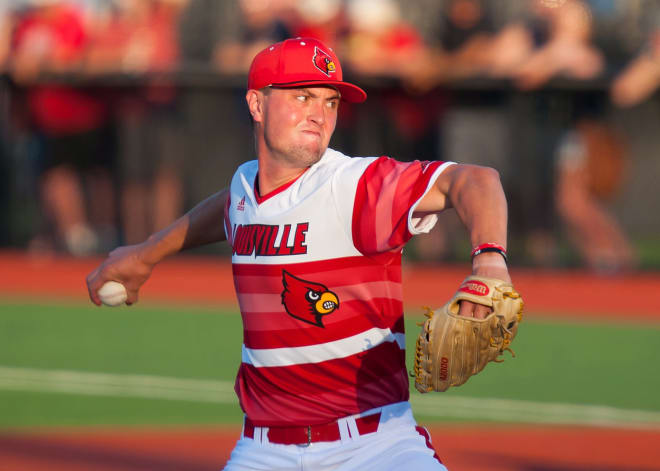 1. Kade McClure
Louisville's 6-foot-7 righty has been a stud this season. He hasn't pitched in 11 days. His last start was Louisville's 5-2 win over arch-rival Kentucky in the Super Regionals. He's 8-3 in the season and 21-4 for his career at Louisville and he's one of the most-fearsome pitchers left in the bracket.
"I'm very excited, but I'm not trying to make it more than it is, though," McClure said. "I still need to put the ball in the zone and let my defense make plays like they have all year."
McClure was a sixth round pick for the Chicago White Sox in last week's MLB Draft.
2. Winner's Bracket
The Winner's Bracket is a beautiful place to be, and the Cardinals would like to stay there. A win vs. Florida Tuesday night and Louisville is in the Driver's Seat to play for a national title next week. The 1-0 vs. 1-0 game in any Regional format carries a HUGE advantage for the winner. If the Cardinals win, Florida would have to fight its way back out of the Elimination Bracket with three straight wins to advance. And likewise for Louisville if the result doesn't go the Cardinals' way.
3. Florida is really good
The Gators are legitimately one of the best teams in the nation. The No. 3 national seed entering the tournament, Florida is exceptional on defense and figures to throw Brady Singer (7-5, 3.29), a 6-5 righty with a ton of talent.
Florida typically doesn't allow a lot of runs. Louisville can draw hope from Wake Forest beating UF 8-6 in the Super Regional, but Florida won the other two games, 2-1 and 3-0.
The good news is the Cardinals don't have to face ace Alex Faedo who was splendid vs. TCU, striking out 11 batters. But Singer has 108 strikeouts in 112 innings this season and has only given up 29 walks in 426 at bats.