{{ timeAgo('2022-08-02 22:32:05 -0500') }}
football
Edit
FALL CAMP: Two position battles to watch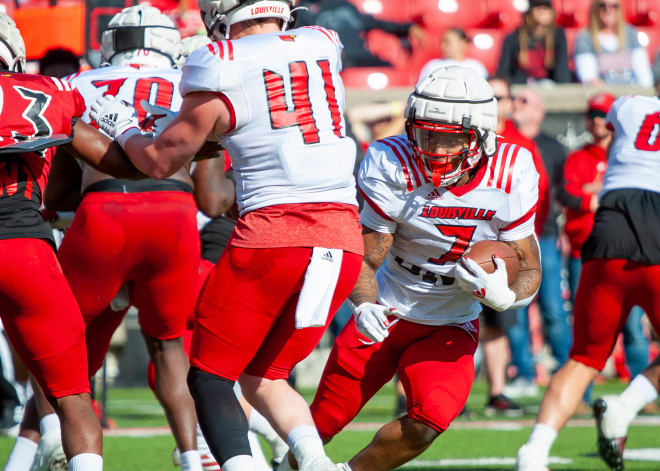 The Louisville football team is set to begin practice tomorrow, August 3rd as Scott Satterfield enters his fourth year leading the Cardinals.
As practice kicks off, we will take a look at two positions that have a handful of players vying for the starting nod.

Position: Running Back
Contenders: Jalen Mitchell, Tiyon Evans, Trevion Cooley, Jawhar Jordan

On paper, Louisville has four running backs who are all worthy of getting the lion's share of the carries in Jalen Mitchell, Tiyon Evans, Trevion Cooley, and Jawhar Jordan.
However, offensive coordinator Lance Taylor prefers to implement a continuous rotation in the backfield.
"I think spreading the carries, plays, and reps. It's not one guy that dominates the carries or the reps anymore, very rarely do you see that. It's by committee because it's a position that the hits accumulate. You have to have multiple guys who can step in and make plays."
Taylor confirmed that Louisville's starting running back could change based on who has found a rhythm.
"We're going to use all of those guys. By game it really depends on who has the hot hand. You get a sense of that through the first couple of series."
Even with Taylor saying that the carries are going to be split up, someone out of this group is going to get the first crack with the ones.

The running back group could be the deepest and most talented position room on the roster, and seeing who emerges will be fun to watch.

Position: CARD
Contenders: Ben Perry, Marvin Dallas, Nicario Harper

The 'CARD' spot is a unique position in Louisville's 3-4 defense as it's a hybrid linebacker/safety role that requires the ability to play close to the line of scrimmage, but also commands coverage skills.
Last year, veteran Jack Fagot primarily handled the starting duties there, and with him moving on, significant playing time is available, and there are a few players who are competing for it.
Transfer Nicario Harper comes over from Jacksonville State after playing two seasons there, and Bryan Brown likes the versatility that Harper brings to the secondary.
"Nicario Harper can play multiple positions, he's a heat-seeking missile. You have to tell him woah as opposed to telling him to go."
The other two guys to watch at the 'CARD' position are Ben Perry and Marvin Dallas, both players who were on the team a year ago, and both players have received praise from Bryan Brown.
"I can name one guy right now, Ben Perry. We're putting him in that spot, he's done a tremendous job so far. Marvin Dallas as well."
As fall camp gets underway, the 'CARD' position is one to watch as any of the three players mentioned could find their way onto the first unit.