Fiery finale set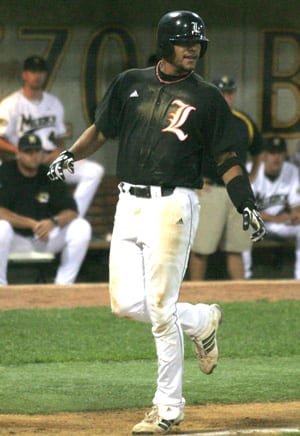 After the Louisville baseball team beat No. 11 Missouri 4-3 in a dramatic elimination game Sunday night in the 2007 NCAA Regional at Columbia, Mo, the stakes for Monday night's championship game are high.
Louisville third baseman Chris Dominguez made sure the stakes will be a few notches higher.
In a tie game with one out in the top of the eighth inning, the Cardinal third baseman hammered a ball deep into the night over the left field bullpen. The two-run home run, which gave the Cards the winning runs in a 4-3 contest that kept Missouri from winning the regional, was insulting enough for the Tigers and 3,457 fans on hand. But as Dominguez left the box--after a taking an extended view of his majestic shot--he turned and said something to Missouri catcher Trevor Coleman.
"When I hit it, I didn't know if it was fair or foul, that's basically why I stood there for a long time," Dominguez said after the game. "I was standing there thinking if it was going to go out."
"He (Coleman) thought I was hot dogging it, yes. Yes, he did. I mean, I can see how he would, of course. I stood there for a long time, but it wasn't a dead center home run, it was kind of toward the line and I was just seeing if it was fair or foul."
Had it ended there, between Coleman and Dominguez, the story would have been what Louisville coach Dan McDonnell thought it should have been.
"Let's respect Chris' talent," McDonnell said. "He hit a ball, I don't know, 400 feet. The game winning homer on the road in somebody else's park where we have to beat someone twice. To me, that should be the story, not players, 19, 20-year-old kids arguing back and forth."
However, it did not end there. As Dominguez circled the bases, he appeared to be jawing at the Missouri infielders. Accounts varied of what actually went down between first base and Domiguez's return to home plate, but the Tigers took exception. Coleman was pointing and in heated discussion with the umpire.
"To steal a line from Pat Riley, competition brings out the very best and the very worst of individuals," McDonnell said. "I was upset at Chris for showing too much emotion and I'm not going to comment on their catcher or their players, I'll let them speak for themselves, but I wasn't happy, no matter what their players said. That's just something they have to learn, but they're student athletes. That's why they go to college, to mature both physically and mentally."
Two umpires spoke to the Louisville third baseman after he crossed the plate. And yet, it still wasn't over. As Dominguez took his position in the bottom of the 8th inning, he was roundly booed by Missouri's fans. The umpire again delayed the start of play as he went over and talked to Dominguez yet again.
"They have good fans here and they were getting pretty rowdy," Dominguez said. "(The umpire) just said just relax, you have to play tomorrow, try to keep everything in order. They are just doing their job and they did a good job."
As far as Missouri's view of things, Coleman was not in the interview room for comment after the game.
"It doesn't really matter," said Tiger designated hitter Jacob Priday. "They scored two runs and that's all we could really focus on."
Missouri coach Tim Jamieson mostly declined comment on the extracurricular activity surrounding the home run. The closest he came to a statement was answering a question about Priday circling the bases quietly after his own ninth-inning homer that made it a 4-3 game.
"You play the game with class and I think that we've shown that as long as I can remember," Jamieson said. "That's the way you're supposed to play and I think that was tremendous restraint to respond in that fashion."
The issue appeared to somewhat continue even after the game was over. While the teams did not meet to shake hands, the coaching staffs did. Jamieson and McDonnell had a discussion near home plate after the handshake.
"I just told him I apologize, I didn't want that to overshadow the game," McDonnell said of his comments to Jamieson. "He was obviously upset and emotional. That was it, we just left it there. I just said I'm sorry for the way that that went down there."
Both coaches, however, downplayed the effect the emotional nature of the final two innings would have on Monday's regional championship tilt.
"I think it's additional incentive, but I think what you're playing for is much more important than anything that happened in this game tonight," Jamieson said. "You have the opportunity to potentially host a Super Regional, you've still got a chance to play in Omaha and that's what tomorrow is all about. If we let things like that affect our focus, we won't be at our best."
"I'm sure the crowd will be very emotional, I'm sure their kids will be emotional as ours," McDonnell said. "Missouri didn't get here by other people fueling their fire. They're a quality club, they're hosting a regional, so I don't think those guys need anything to get fired up for tomorrow's game."
Neither coach has settled yet on a starter. Jamieson said he was leaning toward Aaron Crow, who shut down Kent State in a complete game win and threw 119 pitches on Friday. He said he thought Crow would be available for two or three innings. Louisville's starter has not yet been determined.