Siva: I'm a big fan of Q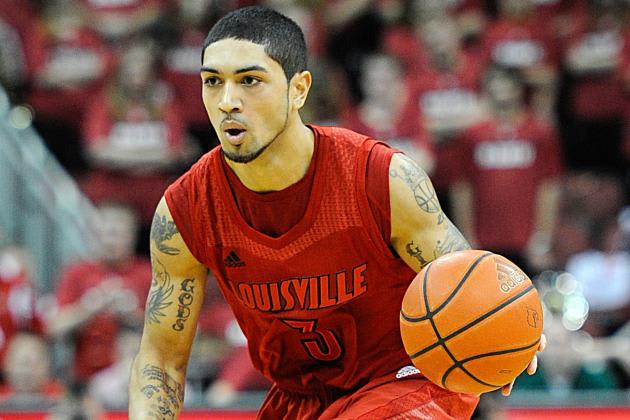 After leading the Louisville Cardinals to its first title in 26 years, Peyton Siva was drafted 56th overall by the Detroit Pistons in the 2013 NBA Draft.
Siva played a total of 24 games with the Pistons, averaging 2.3 points, and 1.4 assists per game before being waived midseason.
He would go on to spend time playing in the NBA's Development league with the Fort Wayne Mad Ants and the Erie Bayhawks, before pursuing a career overseas with JuveCaserta Basket in Italy.
This past offseason, Peyton signed a lucrative two year deal with ALBA Berlin, one of Europe's most prestigious and successful teams. Through 12 games as the team's starting point guard, he has played at a very high level averaging, 11.3 points, 2.8 rebounds, and 6.3 assists per game.
I had the opportunity to talk with Peyton this week to discuss his season in Germany, long-terms goals, and what he thinks of the current Louisville basketball team.
How has the transition been from playing in the NBA to now playing for arguably Germany's most successful basketball team in ALBA Berlin?
Peyton Siva: The transition has been smooth. I would love to get back to the NBA but for now I'm enjoying my time playing for ALBA. ALBA is a great team with a rich history. I am really having a good time.
What's been your favorite part of playing overseas and what has been the most difficult part?
Peyton Siva: My favorite part of playing in Europe is the fact that I get to see so much of the world. Basketball has taken me places I couldn't have imagined going. The most difficult part is when my family goes back home; it gets lonely. Also trying to watch my Cards play!
What aspect of your game do you think you've improved on the most since your time in the NBA?
Peyton Siva: I really improved my shooting I would say. My 3 point percentage has gone up every year since I've played in the NBA. (Peyton is shooting a career high 45 percent from three)
What's the next step for you in your career?
Peyton Siva: The next step is to get another shot at playing in the NBA. If not, playing for a top team in Europe.
How much have you been able to keep up with the Louisville Cardinals this season? Does the team remind you, or compare to your national championship team?
Peyton Siva: I've been able to catch a couple of games. They have a really special team. I think this team has a lot more length than our team, but our team pressed a lot more on the defensive end. These guys seem to block a lot more shots. I think they are very special and are led by a terrific point guard in Q (Quentin Snider).
What do you think of the job Quentin Snider has done being the team's point guard?
Peyton Siva: I'm a big fan of Q. He's a really great shooter and knows how to run a team. To me he's the most important piece to this team. Also, D. Mitchell is a great piece to have.

If you could give this year's team one piece of advice on what it takes to be the last team standing in April, what would it be?
Peyton Siva: Having one another's back. Defenses definitely wins championships, but enjoy the moment, and listen to Coach P; he knows what he's talking about.