Strong: Kentuckys a solid football team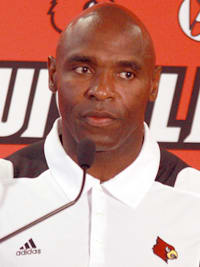 With the annual Governor's Cup game just days away, Louisville coach Charlie Strong has nothing but praise for the Kentucky program and new coach Joker Philips. Strong, hired at Louisville in December to stop the Cardinals' three-game skid to the Wildcats, says that will be a tough challenge.
"It's good we get to play a really good Kentucky team, a team that has been to four straight bowl games and a team that is a really solid football team," Strong said Monday. "When you go to four straight bowl games in the SEC you're a solid football team."
Some said Kentucky's offense would take a step back because of the loss of several key offensive linemen. Strong said the skill position talent and the returning talent on the line still make the Wildcats a challenge to defend.
"You look at Hartline goes down, Newton comes in and they go and win five straight games so it's a position they're comfortable with," Strong said. "Even though they graduated some guys on the offensive line, they have a bunch of guys coming back."
The guy that Louisville seems most concerned with is wideout Randall Cobb.
"Cobb is the guy that makes their team go. He's the nucleus of their team," Strong said. "They play him at a lot of different positions to get the ball in his hands because you've got to get the ball in hands of your playmakers. They get in that Wildcat formation and he's hard to deal with. He may not have big plays but he keeps the chains moving. He can go get a first down for them because he gets behind his pads and go right through people."
Strong also added, "Locke at running back is a really outstanding player with a lot of speed."
The Cats bring back five starters on offense, six on defense from a 7-6 team last season.
"Defensively, they're pretty solid up front. They lost some people in the secondary, but they have some players there," Strong said.
Kentucky has made bowl games for four-straight seasons, the longest streak in school history. Even though Saturday will be the first game of a new season, Strong explained that winning in prior years builds confidence for this year.
"My biggest concern is they've beaten us the last three years, so they're gonna come into this game feeling pretty good," Strong said. "They'll be confident, and they should because of what has happened in the past. It's good it's at home. We have a chance to play in front of a sellout crowd in our own ballpark, and it's gonna be interesting."
The Cardinals coach said he's head about the rivalry all over town since he was hired.
"The buildup is so big because all you hear from fans starting in January is, 'You've got to beat Kentucky.'" Strong said.
So will it happen?
"I told the guys today, just play with passion, play with energy and play every play and we'll see what happens," Strong said.